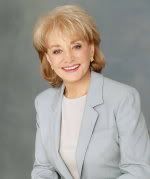 Barbara Walters, as a big-time celebrity, receives Christmas cards from many important people, including the White House. Thursday on
The View
, she showed off her booty, including the fact that the card she received from the White House was a religious Christmas card.
As Walters said,
"Usually, in the past, when I've received Christmas cards, it's been 'Happy Holidays' and so on. And this says, 'You alone are the LORD. You made the heavens, even the highest heavens, and all their starry host, the earth and all that is on it, the seas and all that is in them. You give life to everything, and the multitudes of heaven worship you.' It's from Nehemiah in the Old Testament.


I don't remember and I'm sure people will remind me, getting a religious card. Now does this also go to agnostics, and atheists, and Muslims?"
So many will say, big deal, it's a Christmas card. But I can see Walters' point, particularly about all the people this card may go to. Does Bush, as president of the United States, have a responsibility to be more careful (or at least, whoever picks these cards out)?
The problem is nowadays we bend over backwards to be less about Christmas and more about Holidays, because of
political correctness
. I mean, if people
complain
on constitutional grounds over a nativity scene in front of a courthouse, one which has been in the same location for years, how will they react to this?
Readers?
Watch the video: