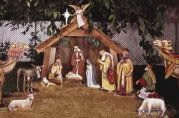 Look, no matter what you think about religion, Christmas, or what have you, this is just plain sick. In Eugene, Oregon, two separate families had their Nativity scenes vandalized when the figures of the infant Jesus were replaced by severed pigs heads.
"It was disgusting," said Shannon Cooper. "We can't even understand where a person would come up with an idea like that." Just down the street, Elmira Street in Northwest Eugune, David Stahl's family found the same vandalism. "It just makes you sick. it's beyond disgusting," he said.
The Coopers put in a new Jesus figure, but the Stahls took their display down completely.
Because other, more secular decorations were untouched, police are considering categorizing the crimes as hate crimes, which would carry anything from five years in prison to three years of probation.