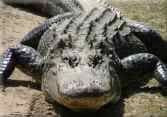 A man suspected of breaking into cars at
Miccosukee Resort and Gaming
in Miami, Florida was killed by an alligator while fleeing, in a scene out of a
Tarzan
movie.
His partner was captured, but this suspect jumped into a large pond behind the facility in an attempt to flee. While swimming he was ... there's no gentle way to put this ... attacked and killed by a nine-foot-long alligator, who bit him several times on the head, according to the police (who were obviously watching from a safe distance).
The body was recovered the next day from the bottom of the pond. Neither of the suspects was identified in the report.
The alligator, well-known on the resort as "Poncho," was captured and transported to All American Gator in Pembroke Park.
In Florida, anytime an alligator kills a person, it must be destroyed according to a Florida Fish and Game state law.