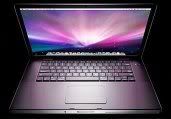 Look, if the OLPC can be used to
surf for porn
, why would this surprise anyone? These are MacBooks, after all ... built-in webcam ... and as Apple likes to say, great for multimedia!
In Snow Hill, North Carolina, students used school-issued laptops at Greene Central High School were used to create and distribute porn. It's become a big deal, with the N.C. State Bureau of Investigation (SBI) involved.
In one case, a 16-year-old student reportedly sent video of himself with his 15-year-old girlfriend to a teacher by mistake.
For a minimal insurance fee, students in sixth through 12th grades in Greene County get a MacBook to take home. The school system leases the laptops with a combination of tax money and grants. As I said, each of this year's models has a webcam.
Greene County Schools Superintendent Dr. Steve Mazingo said the school system does not plan to cancel the laptop program. Administrators, however, are working with the district attorney's office on a video (
how ironic!
) to teach students about how serious charges can be for using the cameras inappropriately.
Authorities have not charged any students yet, but they could face felony charges and mandatory jail time for a first offense if they were convicted (doubtful that they would go this far). On the other hand, at the school level, students who violate computer conduct policies can be banned from using any school computer.
Lesson one: if you're going to send something like this, zip (or rar) it and encrypt with a password, then double-check the email address (whether you're sending it directly or using some file-sharing site like box.net).
Perhaps this will be turned into one of those Mac vs. PC commercials, touting the multimedia capabilities of the MacBook? No? You don't think so?