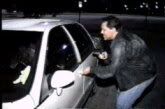 Thankfully, it's not quite as bad as getting
killed by an alligator
while fleeing, but it still reminds me of something you'd see on TV. In Reno, Nevada, a carjacker was caught when he tried to run and became stuck in wet cement.
Rudy Aguas and another suspect attempted to carjack a truck at the Courtyard by Marriott. After pistol-whipping the man, the suspects fled when the man grabbed for the gun.
Aguas ran into a building, where police followed him. He ran into a freshly poured concrete floor and was tackled by construction workers and arrested. The second suspect remains at large.