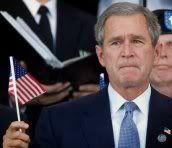 While Veterans' Day approaches, and a report from the
National Alliance to End Homelessness
was released finding that veterans make up
one-quarter of the U.S. homeless population
, Bush was supporting the troops his own way --- video gaming with them.
Although veterans make up about 11% of the civilian adult population, the above report stated they comprise 26% of the homeless.
Meanwhile, on Thursday, Bush was touring a new $45 million, privately-funded veterans' rehab center at Brooke Army Medical Center in San Antonio, Texas. Much of the visit was spent with wounded vets, but Bush also spent time gaming with them.
He played a game that simulated a Baghdad firefight (
Call of Duty 4
, maybe?
). No word on how well --- or poorly --- he did. I'm guessing he got pwned.
At any rate, it's obvious this was mostly a photo-op session, what with Veterans' Day coming on Sunday, but it's still annoying, as we all know George W. didn't do any
real
service, and certainly faced no combat.
But don't get me wrong; as far as gaming goes for vets it's been shown that
video games can help
veterans deal with PTSD.