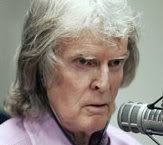 The Rutgers Women's basketball team might want to stay away from WABC on their radio dial if they visit New York City. Don Imus will be back on WABC in New York City with his
Imus in the Morning
program. It will debut (or perhaps re-debut) on Dec. 3.
You may recall the "nappy-headed hos" comment which Imus made on April 4 of this year. It eventually resulted the cancellation of his show a little more than a week later. However, in May Imus filed a lawsuit against CBS, saying his behavior on his show was in fact encouraged, per the clause in his contract to exhibit "irreverant" and "controversial" programming. In August CBS settled the lawsuit out of court.
Citadel Broadcasting owns WABC, so it's likely Imus' show will be syndicated across at least some of its stations. "We'll have him on a standard 40-second delay," a studio source said. Obviously they know what they're getting.