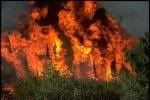 Ironic, much? In an telephone interview with WJLA-TV, Michael Brown, former head of FEMA, who was erroneously told by Bush, "Brownie, you're doing a heckuva job" after Katrina, said that,
"The White House needs to recognize that we are overstretched. They need to increase the size of the regular Army and stop relying so much on the National Guard." He also said that another problem is that "some of these guys are home from National Guard duty in Iraq for literally 5 hours before they have to turn around and respond to something here, and that's not good."
Meanwhile, R. David Paulison, Brown's successor as FEMA chief, defended the National Guard's strength when asked about it Wednesday morning. Paulison said there are "plenty of Guardspeople" available.