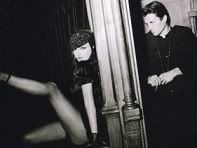 Well, not literally, but pictures like the one above have incensed Catholic groups. The picture is from her
Blackout
album, which coincidentally releases today.
"This girl is crashing," Catholic League President Bill Donohue said. "She's not even allowed to bring up her own kids because she's not responsible enough. Now we see she can't even entertain."
Whoa, the album has actually garnered favorable press --- and a lot of it, so in terms of entertaining ... well, that's probably the only thing she's even remotely doing correctly, in spite of her
lame performance
at the MTV VMAs.
Outside of her music career, she's had a lot of trouble, however, including
running over a photographer's foot
, losing
custody
of her children, and
losing
, then
regaining
visitation rights ... and the problem is there's plenty more where that came from. The comment from Donohue about "crashing" above may not be far off the mark.