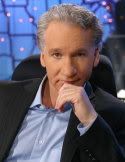 Last night on
Real Time with Bill Maher
, in his
New Rules
segment, Bill Maher addressed the big dust-up over Barack Obama no longer wearing an American flag pin in his lapel. As Obama said,
"The truth is that right after 9-11 I had a pin. Shortly after 9-11, particularly because as we're talking about the Iraq war, that became a substitute for I think true patriotism, which is speaking out on issues that are of importance to our national security.
I liked that statement. The truth is, after 9-11, my wife and I were swept up in rallies with flags, people running down the street shouting USA, and all that. But patriotism is more than a flag, and more than a pin. But the right-wing media started harping on it, as though not wearing the lapel pin was a sin. Remember being a kid and the response you'd get if you didn't wear green on St. Patrick's Day? Please.
Bill said:
"No lapel pin, Senator? It's like not wearing pants. Why don't you just stab the Statue of Liberty in the eye while bitch-slapping a 9/11 widow?" Another in a series of bullsh*t non-stories that have zero effect on the troops, the war or anything in the real world -- or, as Fox calls it, "Breaking News."

Not Fox News, Faux News, as I like to call them.
And more:
Of course, the Republicans are the party of Mark Foley and the Rev. Ted Haggard and Larry Craig and countless other closeted homosexuals, so their fixation on jewelry is understandable, but still ... the flag is just a symbol. You're getting pissy about a brooch, you drama queens, one that was probably made in China. It's probably leaking poison lead on you right now.

At least that would be some sacrifice, because let's be honest: this generation doesn't do real sacrifice or even pay for our own wars. That's what grandkids are for! No, we do flag pins and bumper stickers. And not even bumper stickers. Bumper magnets. Because stickers are tough to get off, and we may change our mind about never forgetting.

When I see the little flag right here, the first thing I think is, you voted for, and still like, George Bush, the man who has gotten more troops unnecessarily killed and maimed by failing to plan for their mission, by pushing their units to the breaking point, by letting his corporate enablers like Halliburton, Bechtel and Blackwater rape and pillage not just the Iraqis, but our own army.
Let's call this kerfuffle "Lapelgate." I hope voters aren't so ignorant --- or disinterested --- of the real issues --- that they vote based on wearing a piece of jewelry.
Watch the whole video. Note the piece on Obama is the last part of
New Rules
.