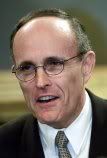 This has to go down as one of the best lines ever! In the Oct. 30th Democratic Presidential Debate, Joe Biden was asked a question about Hillary Clinton. He was asked by moderator Brian Williams,
Senator Biden, you said recently, "While Mrs. Clinton was meeting socially with the prime minister of a country, I was sitting down and negotiating with them. I know my experience is considerably deeper and more relevant."

Do you stand by that quote, and is your inference that she is less qualified than you to be president?

His answer was not about Clinton, but about the leader in the GOP race, Rudy Guiliani ... and it was classic.
I'm not running against Hillary Clinton. I'm running to lead the free world. I'm running to lead this country. And the irony is, Rudy Giuliani, probably the most underqualified man since George Bush to seek the presidency is here talking about any of the people here.


Rudy Giuliani -- I mean, think about it. Rudy Giuliani -- there's only three things he mentions in a sentence: a noun and a verb and 9/11. I mean, there's nothing else.

Watch the clip ... that section is approx. at -2:05 or a little more than 7 minutes in.