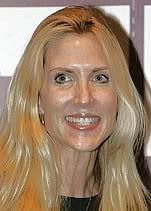 Now why would Ann Coulter want to do that? And many of you are probably asking, "what is the 19th Amendment." The 19th Amendment gave women the right to vote.
According to Coulter (in an
interview
in the New York Observer earlier this week):
If we took away women's right to vote, we'd never have to worry about another Democrat president. It's kind of a pipe dream, it's a personal fantasy of mine, but I don't think it's going to happen. And it is a good way of making the point that women are voting so stupidly, at least single women.

Now, for some reason I don't think this is going to go over very well with
either
Democrat-leaning or Republican-leaning women.
Coulter has made some outlandish statements, for example,
referring to
John Edwards as a "f*ggot" earlier in the year, but this really takes the cake.