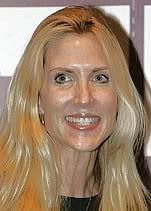 Wednesday Ann Coulter appeared on "The Big Idea" with Donny Deutsch. Not only did she say more outlandish things, she really offended him.
For example, he asked her: "If you had your way ... what would this country look like?" Her answer was "It would look like New York City during the Republican National Convention. In fact, that's what I think heaven is going to look like."
Uh, huh. When asked to describe the convention, she said:"People were happy. They're Christian. They're tolerant. They defend America."
Er, Ann, you know Deutsch is Jewish, right? He asked,"It would be better if we were all Christian?" to which she answered "Yes."
Deutsch then asked "We should just throw Judaism away and we should all be Christians?" to which she said, "Well, it's a lot easier, it's kind of a fast track."
Deutsch then said something stupid himself in that he said she was too educated to believe that (heh).
Pressing her on the issue, he got this from her: "No, we just want Jews to be perfected, as they say. ... That's what Christianity is. We believe the Old Testament, but ours is more like Federal Express. You have to obey laws."
This really upset Deutsch, and he said (as they cut to commercial), "If Ann Coulter had any brains, she would not say Jews need to be perfected. I'm offended by that personally."
Coming back from commercial, Coulter wanted to explain herself. She said "Our testament is a continuation of your testament. We think Jews go to Heaven, I mean Falwell himself said that. We consider ourselves perfected Christians. For me to say that for you to become a Christian is to become a perfected Christian is not offensive at all."
Well, Ann, it was obvious from Donny's manner that he sure was offended, even if you think what you said is non-offensive. What really offends me is that anyone continues to read your books or listen to you.
Update:
Today the National Jewish Democratic Council called for media organizations to boycott Coulter (press release
here
). Many Christian groups, including Catholics United and Catholics in Alliance for the Common Good, were dumbfounded and upset by her remarks.
Watch the video: