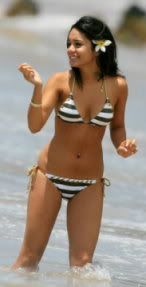 Interest in Vanessa Hudgens hasn't tailed off at all since the release of her
nude photo
, as well as other embarrassing photos. In fact, a check of the
Yahoo! Buzz list
today shows her at the top of the list (click photo for Yahoo! Buzz list image).
At the same time, she's #2 this week on
Lycos' Top 50
.
However, Google's
Hot Trends
list doesn't show Hudgens at all at the time of this writing. I'm guessing Google users are less lascivious than others.