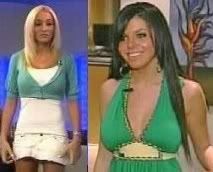 At least it's not a political cover-up of any type. But it's another cover-up "scandal" for Southwest Airlines. You may recall Kayla Ebbert's story from
last week
(she's pictured on the left in the outfit that caused the "problem"). Typical of these sorts of stories, the cat has been let out of the bag. A second young woman has come forward to complain about being told to cover-up, with an outfit that's hardly scandalous.
Setara Qassim (pictured on the right above) said a flight attendant confronted her during the trip from Tucson, Arizona, to Burbank, California, and asked whether she had a sweater to go over her green halter-style dress. Interestingly, last week's incident took place on a San Diego to Tucson flight. Maybe the flight attendants on that California to Arizona run are a little uptight.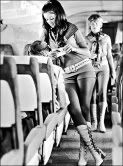 Now, looking at Ebbert's outfit, I could only see an issue if she was doing a Britney / Lindsay type of outfit (if you get
my drift
). Qassim's outfit, to me, is pretty - and certainly not too skimpy (and to be quite honest, she's waaaay better looking than Ebbert - not that that has anything to do with anything).
Now, Southwest does not publish a dress code, although but airline spokesman Chris Mainz said "We rely on our employees to use common sense, good judgment and good taste."
Speaking of good taste, I'd like to remind Southwest that in the 1970's they were the "love airline" and dressed their flight attendants in hot pants and go-go boots.