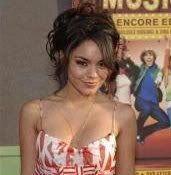 This story just won't die. First Vanessa Hudgens was
forced to admit
the nude photos posted to the Web were indeed her - and speculation ran rampant that Disney was going to drop her. Then, after she apologized, Disney stated they were not dumping her, and that they were
backing
their "High School Musical" star. Now reports have emerged that indicate that the nude photo in question previously - wasn't the first time.
People magazine
reports
that a source close to the situation has said that two years ago Hudgens sent "suggestive" pictures to Drake Bell, star of the Nickelodeon show "
Drake and Josh
." This was prior to Hudgens "stardom."
Bell's rep, Jill Fritzo, said "Drake says he never received those photos."
No reaction from Disney at this point, and of course this story is still all unsubstantiated.