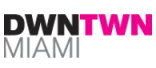 Miami's Downtown Development Authority Friday approved a new logo for the area, one which beat out a number of other logos (you can see a MiamiFly.net poll
here
). The "controversy" is over the lack of O's, which you can see in the logo to the left.
According to Oscar Rodriquez, a board member with the DDA,"Not having the O's makes it more creative."
Critics it will project an image of Miami as a city of illiterates, and might also go over the heads of foreign tourists, confusing them, but I look at it this way: you really want the young people to go downtown, and they are definitely used to missing vowels from text messaging, so why not?